Demo Version of Haydn's Jyotish for Mac OS X


This is a demo of version 1.78 of my software. If you have any questions or need help please e-mail me: huntley@nLogN.com.


Safari will popup a window which looks like this:



Click on the "Continue" button.

Then on your desktop, you will see a new folder icon named "JyoDemo". Double click it to open it. It will look like this: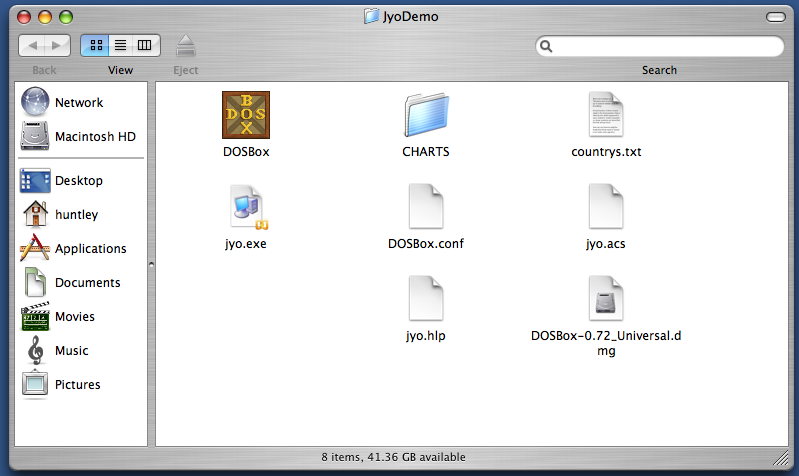 Then double click on the "DOSBox" icon to run the program. (DOSBox is a nifty program which makes it possible to run MS-DOS programs on any Mac with OS X.)

Here is what the program looks like: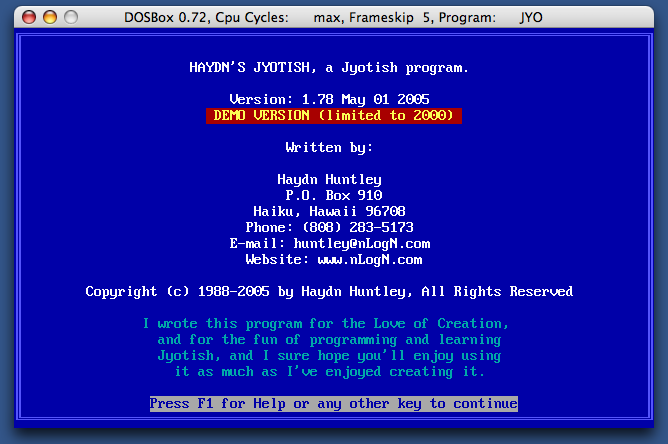 Here are a few useful tricks:

This program was originally written for MS-DOS, so it doesn't use the mouse. Instead you use the arrow keys to move the highlight, or you can use the first letter of a command, like "L" for "LOAD".
When creating a new chart, you may need to press Command-F10 to calculate and display the chart.
If that doesn't work, then go into the System Settings and choose Exposé & Spaces, then click the Exposé tab at the top, then make sure that Exposé is not configured to use any of the F1 through F6, or F9 or F10 keys.
If you have a laptop Macintosh then also go into the System Settings choose Keyboard, and click the Keyboard tab, and make sure the box which says "Use all F1, F2, etc. as standard function keys" is checked.
You can toggle the program between running in a small window and using the full screen by pressing Option-Enter.
---
For questions, comments or to order contact:
Haydn Huntley
582 Hoene St.
Makawao, HI 96768, USA



Skype:
haydnhuntley
Phone:
(808) 283-5173
Current Time:
Sunday, October 1, 7:55 am


Please do not call before 8am or after 10pm.

E-Mail:
huntley@nLogN.com
Copyright © 1997-2023 Haydn Huntley, all rights reserved.